Crossbows have been around for hundreds and hundreds of years, and it doesn't look like they are going to be going anywhere anytime soon. The best crossbow opens up a whole new world for someone who enjoys hunting or target shooting. The problem is that every crossbow is claiming to be the "best crossbow," which can make it hard to determine which models offer what they claim to.
If you are looking for crossbows for sale, we want to make that process a little easier for you. That's why we've looked at bow after bow to determine which is really the best crossbow around. The crossbows below are powerful and offer top speed for a reasonable price. Each is extremely capable of handling all your hunting needs.
In addition to helping you find the perfect hunting crossbow, we'll also share everything you need to know about these tools. We'll talk about the features and components that matter the most and go over basic hunting tips when using one. By the time you're done reading, you'll be prepared to not only purchase a crossbow but to hunt with one, as well.
Best Crossbows for Hunting & Survival
---
Are you looking for the absolute best lightweight crossbow on the market? The CenterPoint offers a huge set of features and comes at a completely reasonable price. The bow weight in at just about eight pounds, has a 185 lbs. draw weight, and can put out a maximum of 385 feet per second speed. Its dimensions are 33.6 x 11.3 x 5.4 inches.
The CenterPoint Sniper 385 bow excels at hunting and offers a higher output than most other mid-level crossbows on the market. It has a quality design that focuses on offering you convenience and power. There is an adjustable stock and grip to enhance your performance and make you feel like you've been using the device forever.
The compact crossbow comes as a set that also includes three carbon arrows, a scope, a quiver, and a rope cocker. The riser is a shoot-through type, which is simple for even beginners to use. It's also nice and quiet since it offers a rubber-coated stirrup and noise suppressors. The optics are reasonable but tend to work best when there is some daylight outside.
Where this item really excels is in the safety realm. It has many security features that are difficult to compromise, even by those who are new to hunting. On top of that, it comes with a massive five-year warranty so you can be sure it's a crossbow meant to last.
Pros
Features a machined cams system which offers top power and accuracy
Package includes carbon arrows, 4X32 scope, parallel quiver, and rope cocking device
Low price for an aluminum composite bow that is easy to carry and maneuver
Cons
Bolts that come standard with the stock are not the highest quality when shooting
CenterPoint Crossbow Reviews
Final Selling points
Accuracy: The crossbow is equipped with an advanced fiber optic sight system and a CNC machined rail
Power: The 185-lb draw weight and 370 FPS speed
Durability: Made from high-quality material
Comfort: The ergonomic stock design and adjustable buttstock
Value: The package comes with a variety of accessories
Versatility: The crossbow can be used for a range of activities
---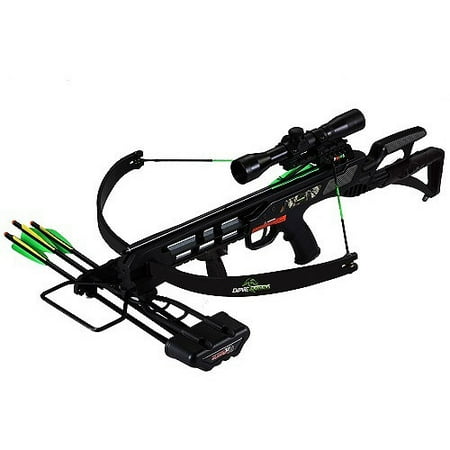 The SA Sports Empire Terminator Recon has a draw weight of 175 pounds and may be the best hunting crossbow you can find. The compact bow is 34 x 11 x 3.5 inches and is the best crossbow for the money considering its many features. It's compact and lightweight courtesy of the aluminum it is created out of. It offers a speed of up to 260 feet per second, which is plenty of power for most people.
As what might be the best crossbow for the year, it has many of the same top features of other mid-scale models. It also happens to come in a package, so you get everything you need to start shooting when it shows up at your door. This set includes a stock scope, arrows, rope cocking device, quiver, and sling.
Other things that make the price worth it for this model are the Picatinny rail and ambidextrous auto safety. It also has a broadhead wrench molded in the stock and a storage compartment you can flip open to use whenever you like. While these items don't come standard, it can use Weaver style mounts and crank cocking devices.
Pros
Features high accuracy and speed with a maximum of 260 feet per second
Price is reasonable as the package includes a Weaver-style scope mount and crank cocking mechanism
High-performance bow is equipped with Picatinny rail and ambidextrous auto safety
Cons
There are some weak components
SA Sports Empire Terminator Recon Crossbow Reviews
Final Selling points
High-Performance Design: High-performance, with a strong and lightweight frame, an adjustable stock and a high-power draw weight.
Accurate Shooting: Equipped with an adjustable rear sight and a fiber optic front sight
Easy for Beginners: Features a cocking mechanism that makes it easy to load and use
Durable Construction: Made with carbon fiber composite frame and metal components
Affordable Price: priced affordably
---
If you are ready to step up and put the best crossbow in your hand, the Barnett Whitetail Hunter STR is a compact, easy to carry model that offers maximum speed, power, and shooting performance. The price is reasonable, and the hunting bow itself is the image of portability. It weighs just over three pounds and has dimensions of 34.88 x 20.13 inches.
This bow has great accuracy and can move 375 feet per second for a fantastic shooting experience. It comes in a package with everything you need, including the stock, lube wax, a scope, cocking device, Headhunter arrows, and quiver. You can take it out to hunt quickly since the manufacturer update that sends it out to you almost fully assembled.
The stock and each limb are painted in a Mossy Oak Bottomland pattern that is ideal for offering coverage when hunting in the woods. While it doesn't come with a crank cocking device, it's compatible with the Barnett 17455 if you prefer that sort of mechanism.
Pros
Features a lightweight design with a single bolt assembly and fiberglass composite riser
Compact bow for a reasonable price is compatible with Barnett 17455 crank cocking device
Package comes with a multi-reticle scope, quiver, rope cocking device, Headhunter arrows, and lube wax
Cons
May receive a hand-painted bow or one dipped in paint, which can affect the quality
Barnett Whitetail Hunter Reviews
Final Selling points
Step through riser removes the need for a foot stirrup, enhancing power stroke
Frictionless Release Technology™ for smooth shooting every time
Soft Lok Floating Bristle Arrow Retainer
Lightweight design at just 6.6 pounds
375 feet per second arrow speed
4×32 scope included in package
Comes with quiver, (2) arrows, and crank cocking device
---
The Killer Instinct Crossbows Hero 380 is certainly a contender for the best crossbow on the market right now. It has a competitive price when compared to a similar bow with many of the same features. This powerful, compact crossbow has a maximum velocity of 380 feet per second, dimensions of 31.5 x 9.5 x 6 inches, and a draw of 185 pounds.
This bow weighs only about six pounds and has plenty of speed to ensure you take down the game you are after. It can be a bit difficult to assemble compared to other compact crossbows of the same type, but once you're past that, using it is a breeze. Designed for hunting, it has excellent features like a 3.5-pound trigger for great accuracy.
Using this device as stock without any other accessories, it can do the job for those on a budget. It's the best crossbow for the money and comes with ultimate adjustability, quiet performance, and a smooth trigger pull.
Pros
Bow features a 3.5-pound trigger for a smooth and even pull and great accuracy at a good price
Compact and lightweight bow capable of shooting at a speed of 380 FPS
High performance and increased stealth through custom rubber shock absorbers
Cons
The scope is not quiet as good as other models
Killer Instinct Crossbow Reviews
Final Selling points
Shoot-through riser, split limbs, and precision cams combine to rocket arrows downrange up to 380 fps with a hard hitting 118 ft. lbs. of energy.
Comfortable design with adjustable buttstock and pass-through foregrip for improved accuracy.
TriggerTech trigger provides a smooth 3.5 pound pull for consistent shooting performance.
Lightweight design at only 5.8 pounds makes it easy to carry in the field or on the range.
Includes 4×32 multi reticle scope, quiver, three 20" bolts, rope cocker, and rail lube wax for easy maintenance and setup.
---
Another bow that might be the best crossbow for your needs is the Barnett Whitetail Hunter II. It has a draw weight of 150 lbs. and offers a velocity of 350 feet per second. The kinetic energy of this bow is 103 ft. lbs. and the stock comes in a camo design for easy shooting. It measures 33 x 13 x 8 inches in total.
This update to the original is made in the United States and offers all the power you will need while hunting. It comes with everything you need include a scope, cocking device, arrows, quiver, and lube wax. Each limb and the body of this compact crossbow is made of stainless steel. You won't need to worry about how to improve it as it also offers a nock sensor and ADF to prevent dry fires.
As a user of this device, know that it comes with a free custom trigger upgrade for a lighter, smoothers trigger to make hunting a breeze. It gives you the ultimate safety and the confidence to take a big shot. It also happens to have a competitive price, so you won't feel like you're breaking the bank to get top power and performance.
Pros
Great price for the accuracy, speed, and performance with a 150 lbs. draw weight
Bow is made in the United States and comes to your door nearly fully assembled
Package includes a 4X32 scope, lightweight quiver, lube wax, rope cocking mechanism, and Headhunter arrows
Cons
May experience anti-dry fire safety getting stuck on the hunting crossbow
Barnett Whitetail Hunter II Reviews
Final Selling points
Lightweight and compact design, making it easy to transport and store
Realtree Xtra pattern allows you to easily hunt year-round
Fires arrows up to 350 fps with 103 ft. lbs. of energy
Comes with a rope cocking device, side mount quiver, two 20″ Headhunter arrows, and string dampeners
4x32mm multi-reticle scope included
Draw weight of 150 pounds kinetic energy
---
While searching for the best crossbow for the money, you're likely to come across the Bolt Crossbows The Seeker Crossbow. This bow does things a bit differently than the ones we've already talked about in that it's built for a smaller user than a typical device. It has an 80-pound draw weight and 200 FPS in terms of speed and performance.
If you want your child to experience a hunt with you, this is an option to meet your needs. Unlike other models, it has a reasonable price for someone just getting started. While it doesn't come with everything you need like a crossbow scope and quiver, it does include a solid stock, limbs, and aluminum bolts. It also measures in at only 20.5 x 8 x 2.5 inches.
This extremely lightweight bow is the image of perfection for smaller crossbow enthusiasts. As an added bonus, you know it wasn't created to use once or twice and break since it offers a one-year manufacturer's warranty.
Pros
Comes at a great price for extremely good accuracy, power, and speed when shooting
Features an 80 lbs. draw weight and 200 feet per second speed ideal for beginners and youth
Includes three aluminum bolts and comes with a yearlong manufacturers warranty
Cons
Size of the compact bow makes it too small for most adults who are hunting
Bolt The Seeker Crossbow Reviews
Final Selling points
Lightweight – At under 3 lbs, it's one of the lightest crossbows on the market
Balanced – The Seeker Crossbow is perfectly balanced
Easy Cocking Lever – Makes cocking the crossbow a breeze
Lighter Draw Weight – With an 80 lb draw weight
Full Stock & Fore Grip – Full stock and fore grip provide maximum control and accuracy
Affordable Price – Much cheaper compared to others on this list
---
Are you looking to find the best CenterPoint crossbow? You just stumbled across it in the CenterPoint Specialist XL 370 Camo Crossbow. As the best crossbow from the brand, it has a fully adjustable buttstock for a customizable fit. It measures in at 33.5 x 11 x 5 inches and has a draw weight of 185 pounds. It can cause bolts to travel as fast as 370 feet per second at maximum.
Each limb, of which this bow has four, was created with an auto-safety trigger mechanism and anti-dry fire. The user will also receive tons of extras with this set, including a sling, a scope, a rope cocker, carbon bolts, and a quiver. You might think it can't improve but the compact bow also features an adjustable foregrip with large finger guards.
For this type of bow, you might expect it to come at a high cost, but the price is fairly reasonable. There are very few reasons not to consider this item, mainly the fact that it can be a bit noisier than other models.
Pros
Aluminum bow package includes a 4X32 scope, rope cocking mechanism, carbon bolts, quiver, and sling
High accuracy and speed when shooting courtesy of machined cam system and shoot through riser
Compact crossbow has a reasonable price that will get you set up for hunting
Cons
Lightweight and top performance and power, but may be a bit loud
CenterPoint Specialist XL 370 Camo Reviews
Final Selling points

It offers up to 370 fps, making it one of the fastest crossbows on the market.
It comes with a 4x32mm scope, three 20" 370 gr. carbon arrows, quiver, rope cocker and sling, giving you everything you need to get started right away.
It's available for under $300, making it an affordable option for any budget.
It has great customer reviews, with many people praising its accuracy and ease of use.
Its camo design makes it perfect for hunting in any terrain or environment.
Replacement parts are readily available if needed in the future.
---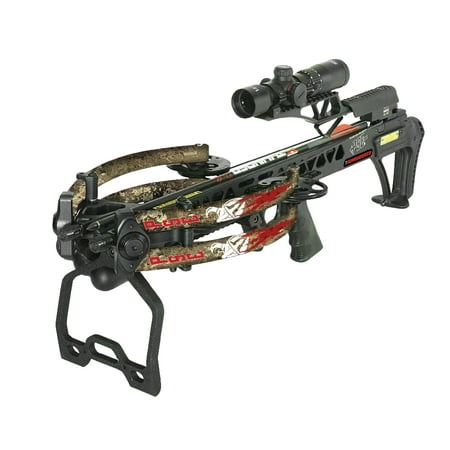 Another entry worthy of being known as the best crossbow comes from PSE as the Warhammer True Timber Strata. The bow weighs less than 12 pounds and comes with several 400 grain bolts. It also includes hunting accessories like rail lube, a quiver, and a cocking rope as an entire set to get you started.
The draw weight of this performance item is only 175 pounds, while it can offer a velocity of 400 feet per second. In addition to the accessories mentioned earlier, it's worth being aware that this model has an illuminated scope for hunting after dark. This sets it apart from other hunting crossbows and ensures accuracy and performance no matter when you hunt.
The stock and limbs are created with CNC precision for power, while the included string stops keep it from being very loud. It comes at a somewhat higher price than some of the items on this list, but it offers a lot for it.
Pros
Great speed for the price at 400 FPS and package includes five bolts
Simple shooting experience thanks to illuminated scope, HDV 425 scope, and carbon arrows
Bow features a reverse cam system for a longer power stroke and more kinetic energy
Cons
PSE Warhammer Crossbow Reviews
Final Selling points
Delivers 400 FPS with a 400 grain bolt
142 ft lbs of kinetic energy
80% letoff
245 lb draw weight
Weighs 7.6 lbs
Made in the USA
Includes Thunderbolt Bolts, HDV 425 Scope, Quiver, Crossbow Rail Lube, Sling, Cocking Sled Rope
NA / Customer Reviews (notmany enough reviews to make it reliable
0
---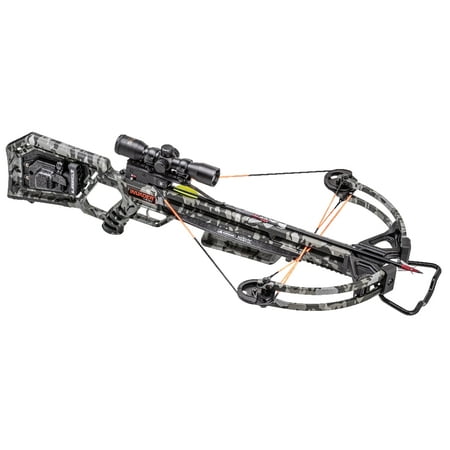 Coming in as what could be the best crossbow from Wicked Ridge, we wanted to look at the TenPoint Invader. This bow offers power, speed, and performance in a mid-range package. The packaged set comes with the stock with limbs and a riser, a scope, a cocking mechanism, arrows, and practice tips.
This device weighs about six pounds and has a draw weight of 185 pounds. It's just under 35.5 inches long and offers a maximum velocity of 360 feet per second. This type of bow has a slightly higher price than an entry-level item, but it also offers much more to the user. Everything you need comes with it, so no other purchases are needed.
Pros
Great price for compact and lightweight Wicked Ridge Invader with fantastic accuracy and speed
Package comes with Wicked Ridge Invader G3 compact bow, multi-line scope, ACUdraw cocking item, quiver, and arrows
Features an easy to use, safe, lightweight design ideal for bow hunting
Cons
May be louder than expected when it comes to shooting performance
Wicked Ridge Invader Reviews
Final Selling points
Shoots arrows up to 400 FPS, making it one of the fastest crossbows on the market.
Measures 15 inches wide, making it compact and easy to carry in the field.
Comes with a built-in ACUdraw 50 Cocking Device, allowing for easy and safe cocking.
Includes a lighted 3x Pro-View Scope for improved accuracy and visibility.
Comes with three XX75 Aluminum Arrows and a 3-Arrow Instant Detach Quiver for quick reloading.
Features an ultra-lite stock design that is both lightweight and durable.
---
For the ultimate in speed, the Ravin R10 is the best crossbow you can get. Not only does it offer 410 FPS and excellent accuracy, but it's also one of the only models to show up at your door fully assembled. As the user, you can head out on a hunt with the stock, each limb, scope, and all other parts put together for your convenience. A
.user with this type of bow can be the image of an amazing hunter.
This package has plenty of speed with that 400+ feet per second speed we already mentioned, and it also happens to be simple to use. It's lightweight and only requires 12 pounds of power to draw. A great update with the bow set is the illuminated scope, which is matched with built-in sling mounts. If you are looking for power at a good price, this might be the perfect option. It's also very compact at only 26 inches long.
Pros
Fully assembled with a 410 FPS, this compact bow offers speed and performance when hunting
Package includes six arrows and nocks, cocking handle, quiver, and field points
Features anti-dry fire auto safety for safety in the field when shooting
Cons
Price may be out of the range for many people looking for the best crossbow for the money
Ravin R10 Crossbow Package Reviews
Final Selling points
Has advanced Helicoil technology
Small and light coming in at length of 33 inches and weighs just 6.8 pounds
The Versa-Draw Cocking System is ambidextrous and requires only 12 pounds of cocking force.
It offers 400 FPS speed with a 165-pound draw weight, providing plenty of power for hunting in tight quarters
Includes a 3-arrow quiver, three 20-inch arrows with 100-grain field points, and a removable cocking handle

---
Everything You Could Possibly Need to Know About Purchasing the Best Crossbow
Before we get into making sure your bow has good accuracy or discussing the merits of carbon arrows, we wanted to go over exactly what a crossbow is. Essentially, when you purchase a crossbow, it's a bow that is horizontal like a gunstock, rather than vertical like traditional bows. While it can be compared to a gun, the reality is that people have been hunting with crossbows far longer than rifles.
The arrows that a crossbow shoots are referred to as bolts (or quarrels). The original crossbow was invented in China as a weapon of the military and was largely considered to be a gamechanger in the world of projectile weapons. Today, most compact crossbows are used for hunting and sport, especially in situations that warrant silence.
While it might seem that using a bow would be easy, it's not as simple as it might originally appear. The best crossbow hunters out there had to spend lots of time and effort shooting targets to get to where they are. Learning to use the best compact bow is the first step. Working toward accuracy, speed, and power is what comes later.
Different Components on the Best Compact Crossbows
While it might seem as if a crossbow only has a handful of parts, there are likely more components than you know. The best aluminum crossbow is likely to have 15 components, if not more. Below you can learn more about the basic parts you will find on your own powerful crossbow.
● Barrel – The barrel is going to be found on the lower area of the flight groove and is often considered to be composed of the riser, foregrip, and flight groove.
● Bridge – When you look down the middle of the crossbow, the bridge runs along the underneath.
● Flight Groove – The flight groove is what holds the bolt in the right spot and ensures the bolt comes out directly and immediately when the trigger is pulled.
● Foregrip – The foregrip is the area where you place the hand you are not using to control your trigger.
● Latch – The latch on a crossbow is what holds the string in the proper location until you pull the trigger to release the bolt.
● Limb – Every crossbow is going to have two limbs, which are the sides of the bow that go in separate directions away from the bow.
● Quiver – A quiver is used to hold your extra bolts and is commonly found on the bottom of the bow at the front end.
● Retention Spring – A retention spring is what stretches when cocking a bow, which snaps back when the trigger has been pulled.
● Riser – The riser is found at the front of the flight groove and holds the bolt head in place until you pull the trigger.
● Serving – The serving is the spot on the bowstring where the bolt's tail connects.
● Sight – A sight can come in different styles, such as a red dot sight, with some having only a small indicator. Most crossbows come with a scope-type sight that offers better accuracy.
● Stirrup – You use the stirrup to cock your crossbow. This is done by placing your foot through it and cocking the bow when the stirrup is pressed up against the ground.
● Stock – The stock refers to the entire part of the crossbow that presses against your shoulder. It is also sometimes known as a tiller.
● String – The string on a crossbow adds tension to the bow and makes contact with the rear of the bolt.
● Trigger – The trigger is what unhinges the lath so the string can propel the bolt toward a target.
Different Types of Crossbows for Hunting and Target Shooting
Modern crossbows, like the Barnett Jackal Crossbow and the Excalibur Matrix Crossbow, comes in an array of styles, colors, and designs. Many may look a lot alike, but that doesn't mean that some models aren't better than others. If you want the best speed and accuracy, you need to be aware of what your options are and which will improve your hunting skills
One and Two-Handed Bows
You can choose a crossbow that is one-handed or one that is two-handed. A one-handed model resembled a pistol and is less common than a two-handed crossbow. Two-handed crossbows are what you will often see on the market because they are good at many different things. They can be used for hunting, scientific sample collecting, military use, fishing, and target shooting.
The image in your head of a crossbow is probably a two-handed version, which tends to be more powerful and accurate than a one-handed version. Handling and operating a two-handed crossbow are simple things to learn.
While one-handed crossbows are less common, they can be used for self-defense, target shooting, and small game hunting. This kind of crossbow may be less powerful and will have less accuracy, but they tend to be extremely lightweight, lower in price, and easier to use.
Compound, Recurve, and Reverse Limb Crossbows
Once you've decided on a one-handed vs. two-handed crossbow, the next question comes down to whether to choose a compound bow, recurve bow, or reverse limb bow. Each has its own set of features, and all can be used for hunting. It all comes down to what your priorities are and what sort of experience you want.
The Compound Bow
The most significant difference between a recurve crossbow and a compound crossbow is how the string attaches to the limbs. With a compound bow, cams or pulleys are used to draw up the string which creates a let-off and maximizes the stored kinetic energy. This means that cocking the crossbow is straightforward after you reach the break-over point. However, that doesn't have an effect on accuracy as it locks into place at a full draw.
Another defining factor is that a compound crossbow has shorter limbs than a recurve does. Depending on the hunting experience you want to have, this might be a positive. If there are tight spots you need to get through quickly, a compound crossbow provides that ability.
Since most of the crossbow mechanisms with these models are on the front, it can feel heavier at that end. This can sometimes cause you to slow down when bringing up the crossbow to aim it, as well as when you hold it in a shooting position for an extended period of time.
With any compound bow, keep in mind that if you break the string and don't have another, you have to take it somewhere to be replaced. Having an extra string ready and checking the pulleys and cables on a regular basis is important. Replacing a string is much easier than having to find someone with one that fits.
Compound crossbows are also often louder when you release a bolt. There are options to make them quieter, but they are never going to be as silent as a recurve will be when hunting. All in all, compound bows have a lot of great features but may not be the right choice for everyone.
For more hunting gear check out>>Free Hunting Gear
The Recurve Bow
The second choice you have is to choose one of the recurve crossbow models. This kind of bow has tips that curve away from you while you do your shooting. It is going to be more lightweight than a compound crossbow, which means they are easier to carry to distances farther away. It also means this is the best type of crossbow for women and children.
You can also expect a recurve crossbow to have a lower price than the alternative. The reason for that is because they have fewer components to move around. Without cams or a cable in motion, firing is also going to be quieter. Unlike a compound crossbow, a recurve needs little maintenance. Most models need the trigger cleaned, the rail lubed, and the string swapped on occasion.
That doesn't mean that the recurve is perfect, though. These crossbows tend to be harder to cock. You are the only thing pulling the weight all the way back. A string cocker is an accessory that can help with that, but it adds to the price of the crossbow since it usually comes separately. Once it is cocked, the limbs are also longer, which makes it harder to maneuver.
The Reverse Limb Bow
The final choice for the type of crossbow is the reverse limb bow. Reverse draw technology is a new innovation that basically reverses the direction of the limbs from a typical compound crossbow. This gives them a very distinct look and makes them capable of better performance than ever. These new aluminum crossbows are among the best and some companies focus only on this type of bow.
The orientation of the limbs means the riser and limb pocket assembly are both closer to the trigger, which shifts the center of gravity to be closer to you. This creates less front end weight for a more stable and comfortable shot with plenty of speed. Since the string stays in contact with the bolt across the entire barrel, they often have a higher speed per pound of draw than other options.
Determining the Best Draw Weight for Your Needs
There are crossbows for all kinds of use, but most of them are purchased mainly for hunting. As such, manufacturers focus on features that make hunting easier, like adding a red dot sight or increasing the pounds of draw the crossbow has for more powerful shooting.
Most people who hunt medium-sized game won't need a huge amount of draw power in their crossbow. In fact, when shooting at whitetail deer, a draw weight of 150 lbs. with a velocity of 300 feet per second will do the job. Some reverse draw crossbows can have a lower draw weight, but this is a general rule to stay above for hunting. If you're going to hunt large game, you are going to want to increase the arrow weight and draw weight to be humane.
In addition to draw weight, the kinetic energy output is important to understand and designates the power of a crossbow. Kinetic energy depends on the velocity and weight of an arrow and will decrease as the bolt travels, so it is generally always an estimate. If you keep in mind the rule for velocity and draw weight in pounds above, you will find the best crossbow without much trouble.
Other Important Factors to Consider When Choosing the Best Crossbow for the Money
At this point, you should be well on your way to finding the best crossbow with perfect accuracy and a good dose of power for a reasonable price. However, there are other features that can be important to pay attention to. Evaluate each of these things when you are comparing bows, for instance, an Excalibur Matrix vs. a Barnett Jackal Crossbow.
● Arrow or bolt size – You should always know how large the bolt is and how large of an arrowhead it can handle. The crossbow you are using has a large effect on what bolts are appropriate.
● Bow use experience – Think about what you are going to use the bow for most. Someone who is mainly going to be hunting will have different needs than someone who just wants to target practice.
● Bow weight – Consider how heavy the bow is and whether that works for your needs. Many people prefer to choose a bow that is easier to carry around than one that might have slightly better accuracy.
● Cocking mechanism – Some crossbows have a cocking tool built-in while others may not, which means drawing the bow is more difficult. If it doesn't come with one, consider whether you can easily add one.
● Customization level – Crossbows with a high customization potential are great if you want to improve them later on. You can add accessories, swap out parts, and get creative to find the perfect crossbow for your needs.
● Design of bow – The design and color of the crossbow also matter depending on your needs. A camo design might be great for hunting in some locations but not others.
● Extra parts – If extra parts like strings, pulleys, and cables, come with the crossbow, this can be great. You don't need to worry about the price of purchasing them on your own now or when you need a replacement.
● Level of sound of the bow – Be sure to find out how loud the crossbow is when it fires, especially if you will be using it for hunting. Also, consider whether it has a loud cocking noise that could drive the game away. It's often worth paying a higher price for a quieter crossbow.
● Manufacturer warranty or guarantee – Look into what warranty a manufacturer offers and how you take advantage of it if you need to do so. Find out what options you have if something breaks or is defective.
● Price level – Price may not be the most important or online consideration, but price always matters. Think about whether comparable crossbows are around the same price and whether they are within your budget.
● Type of scope – First, look at whether the crossbow has a scope. Next, consider what capabilities the scope has. If there is no scope on the crossbow, decide whether you can add the type of scope you like yourself.
● Speed or FPS – Knowing the velocity of the bolts leaving the crossbow is important. Look at the feet perf second rating while you compare crossbows.
Frequently Asked Questions Answered
Why do people choose to use a crossbow for hunting?
Choosing to use a Crossbow like the Excalibur Matrix to go hunting is a common choice among bow lowers. They are also fairly frequently used for target shooting and can offer power and speed for both of these things. Bow weight, draw weight, and speed might not seem essential to target shooting, but they are huge when it comes to hunting.
If you have a properly sighted in scope and a target within a reasonable distance, target shooting can be done with ease using a crossbow of any kind you like.
What is the most accurate crossbow on the market today?
All the crossbows on our list are known for their accuracy, speed, and power. Saying one is the absolute best in terms of accuracy is difficult. However, there are some manufacturers who are known for consistently offering the accuracy and speed you want at a reasonable price point. Some of them include:
● Arrow Precision
● Barnett
● Carbon Express
● CenterPoint
● Diamond Archery
● Excalibur
● Horton
● Parker
● PSA
● SA Sports
● TenPoint
● Wicked Ridge
How do I know the crossbow I'm buying is of the best quality?
In truth, the very best crossbows tend to be more expensive since their components are high-quality and more difficult to create. However, that doesn't mean you have to empty the bank to get the best crossbow with the speed and features you want. Look at the materials used on the crossbow and consider its warranty and price to get an idea of what to expect.
Many people fail to consider durability when comparing everything else from price to speed and extra features. However, knowing what a crossbow is made from is crucial since some materials stand up better than others do. Also, consider the kinetic energy stored in the crossbow that is released when you fire it and how long the crossbow can handle that on a regular basis.
The best crossbow will be made of top materials like carbon fiber or aircraft aluminum. Some plastics can soften and become damaged in heat or cold, which you want to avoid. A drop or an accidental bump against something could cause serious issues to a crossbow made of lesser materials, leaving you to need a replacement.
How far away can a deer be shot with a crossbow when hunting?
You would think that answering this question would be a simple matter of the power and speed behind a crossbow, but that isn't the entire truth. The distance at which you can shoot a deer with your crossbow depends on how good your technique is, what the velocity or speed of the crossbow is, and how quality the scope on your crossbow is.
If you have one of the best crossbows with an FPS of 300 or more, you can shoot up to 500 yards into the air, but that doesn't mean you can hit something that far away. Assuming the best crossbow with a high speed and reasonable scope, your hunting range will be around 50 to 60 yards. That doesn't mean you can't shoot farther, but it does mean it will be harder to get a perfect shot.
What maximizes the speed of the best bow?
The speed of your bolt comes down to cam dynamics, power stroke, kinetic energy, draw weight, and bolt spine and weight. The best option for increasing the speed at a low price is by increasing the draw weight. The reason speed is so important is because many crossbows make a loud sound when fired that makes game run. This can cause you to miss even the best shot, but speed will help you.
How can you be sure a crossbow fits your frame?
When you are considering the purchase of a crossbow, you need to be sure it's one that will be comfortable for you. Having a crossbow that fits badly can be just as frustrating as wearing shoes two sizes too small or large. It can lead to bad shots and less success in the hunting field.
Your own strength is important to consider since many companies offer mechanisms to cock the crossbow for you, but you still need some level of strength. As an example, an 18-inch power stroke is much longer than a 12-inch power stroke, so the 18-inch is going to be harder to use for someone who is shorter.
It's also important that the weight of the crossbow isn't so high that you can't carry it around on long trips. Take into consideration the weight of each crossbow and your realistic abilities. Nobody wants a crossbow that is hard to aim since you can barely hold it.
What sort of accessories are available for crossbows?
When you step into the world of crossbow accessories, you will quickly realize there are gadgets and tools for everyone. We recommend the first accessory you buy to be a bow case. It isn't as easy as just grabbing the first one you see since these come in different styles and offer very different features. When choosing a crossbow case, you have three options:
● Hard case – Typically made of molded ultra-high-strength polypropylene copolymer resin or aluminum with a soft foam interior. These come in various configurations and with varying features to accommodate different designs and accessories. In most cases, there will be a space for bolts and gadgets. These are the most durable cases and least likely to be damaged.
● Hard case – A soft case is often made using a Cordura material common in luggage. Most of these cases will have foam inside and be less expensive than other cases on the market. They may have a zipper closing and a compartment for arrows and accessories. However, they don't have the best durability, although they can keep away dirt and debris.
● Hybrid case – A hybrid case will be made of EVA and offer durability along with lightweight for easy transport. These are molded in various ways to fit nearly all crossbows on the market. A hybrid case can be pretty expensive and offer locks with a latch mechanism. They often have features like pockets for quivers and scopes.
After you've taken care of the case, you also want to be sure you have bolts for your crossbow. Having the right bolts will affect your speed and whether you can make a shot, so you want to be careful when choosing them. The arrow weight you choose should be based on your power stroke and draw weight.
A bolt that is too light can bend when its deployed and be less accurate. You should look at the manufacturer's recommendations on what bolts are best for your crossbow. Most of them come in 20 or 22-inch lengths based on the power stroke. The spine and weight will be listed on the arrow itself.
Your crossbow may come with field tips, a scope, bolts, a quiver, and a cocking aid, but that isn't always the case. Hunting broadheads are often purchased separately and need to be chosen based on your own preferences. Fixed broadheads are most commonly recommended since mechanical broadheads deploy during actuation, which can cause changes to the bolt's flight.
Using a Crossbow in an Effective Way
Your crossbow is going to be different than someone else's, but keep in mind that most of them work in the same general way. When using your crossbow for speed and effectiveness, you want to consider the style and size of the bow, the size of the bolt, the draw length, the draw weight, and other factors. However, using a crossbow comes down to a set of simple steps:
1. Press the stirrup of the crossbow on the ground and place your foot through it.
2. Let your foot firmly in its place after it has gone completely through the stirrup.
3. Using the same amount of force with each hand, pull on the string. An automatic cocker can help you do this if you have trouble. Once the crossbow is cocked, it will make a loud clicking sound.
4. Put a bolt into the groove of the bow, making sure the end of the arrow touches the string. The arrows fletchings (feathers) should be in the crossbow's groove.
5. Some devices have a manual safety option, while others have an automatic safety feature. Make sure it is engaged up until the point where you are ready to fire the weapon. All you need to do from that point is to aim the crossbow and pull the trigger.
How to Maintain Your New Bow
After you have purchased a crossbow, you are also going to want to ensure that it stays in pristine condition for as long as possible. There are a few things you can do to maintain the crossbow and get the most out of it in terms of lifespan.
1. After each use of the bow, check for damaged, loose, missing, or worn parts that need attention or replacement.
2. Immediately replace any strings that are fraying or even slightly worn.
3. Utilize the manufacturer's recommendations to ensure the flight groove and barrel are properly lubricated.
4. Check the manufacturer's recommendation and use them to wax the cables and string.
5. Lubricate the trigger box and exposed mounting bolts using the manufacturer's recommendations.
6. Wiggle the limbs and the riser to be sure they aren't moving on their own away from the stock of the device.
7. For those who use scopes, be sure you clean it on an occasional basis using an alcohol-based wipe.
8. Take a can of compressed air and used it to get small particles out of small holes and nooks in the crossbow.
9. Periodically, make sure to retighten all bolts a bit at a time in an even manner. This should be done about every 50 to 100 shots.
10. Before loading an arrow, make sure to look it over. Ensure the arrowhead is firmly in place and that there is no splintering or cracking on the shaft.
11. If you want to prevent vibration and excess noises, use a vibration dampening gadget.
12. Purchase a high-quality case and keep it and all your accessories inside of it.
13. Make sure always to keep the item away from children
Conclusion
At this point, you should know everything you need to know about crossbows, their components, and what to prioritize when purchasing one. Our reviews can give you an idea of which crossbows to look at when you want a solid hunting experience. Once you have a crossbow ready to go, you can refer back here for usage and maintenance tips you may need later on.
While we have provided some of the top crossbows here to make your life easier, we've love to know if you have a favorite bow that isn't mentioned here. Leave a reply, and other readers can have more options to go off of. In the meantime, enjoy your search for the best crossbow and all the fun you'll have once you get to use it!